Vex IQ
Applied STEM Learning for Grades 6+
Any Educator can teach STEM with VEX
Each unique part of the VEX ecosystem works together to deliver meaningful learning experiences for all students. The VEX IQ Classroom Bundles contain all the STEM hardware needed while educators get professional development, curriculum, and support. The VEX IQ Ecosystem promotes high-quality STEM education that is essential, relevant, and continual.

Any Adult can mentor a Team with VEX
The VEX IQ Ecosystem makes mentoring a competition robotics team approachable and manageable with kits, support, professional development, and many more STEM resources. Each unique part of the VEX ecosystem works together. Students apply STEM concepts and learn teamwork, leadership, and communications, and much more.

Applied STEM Learning
VEX IQ Education Kit
VEX IQ is a snap-together robotics system, making it fast and easy to build an endless variety of robots. Watch code come alive on a physical robot and apply key STEM skills.
. Organized parts storage reduces classroom clutter
. IQ Electronics are Simple, Flexible and Powerful
. Students can build and change their robots fast
. Parts, Electronics and Curriculum are integrated together
. VEXcode software supports Block, Python and C++ (no installation required)
Organized Storage
The IQ Education Kit comes packaged in two storage bins. Every part in the kit has its own dedicated location with visual labels inside each bin, keeping everything organized and easily accessible.
Simple. Flexible. Powerful.
VEX IQ comes with all the electronics needed to power, remotely operate, and code your robot.
. The Robot Brain connects your entire robot together, and includes a color screen for quick and easy control. Multiple international languages will be available*.
. The Robot Battery uses Lithium-ion technology to provide all-day classroom usage in most situations, and includes a button for quick battery charge indication.
. The Controller enables wireless robot driving and wireless code download.
. The Optical Sensor lets the robot see light, color and gestures, even in darker rooms.
.The Distance Sensor (2nd generation) uses a safe laser to accurately detect distances without interference.
.The Touch LED provides human touch input to the robot and color output to human eyes.
.The Bumper allows the robot to feel when it hits a wall or another robot.
.And the most important part of all, the Smart Motors make it all come to life with power and precision.
* Languages will be added in updates as they are translated. Languages in work are Spanish, Chinese Simple/Traditional, Russian, French, Arabic, German, Japanese, Korean, and Portuguese.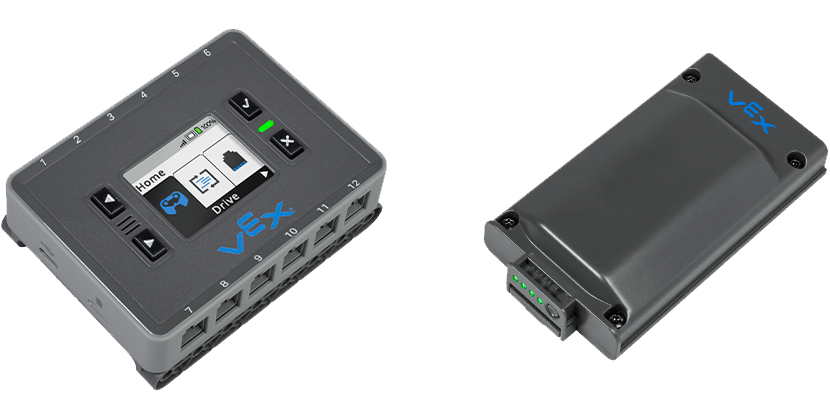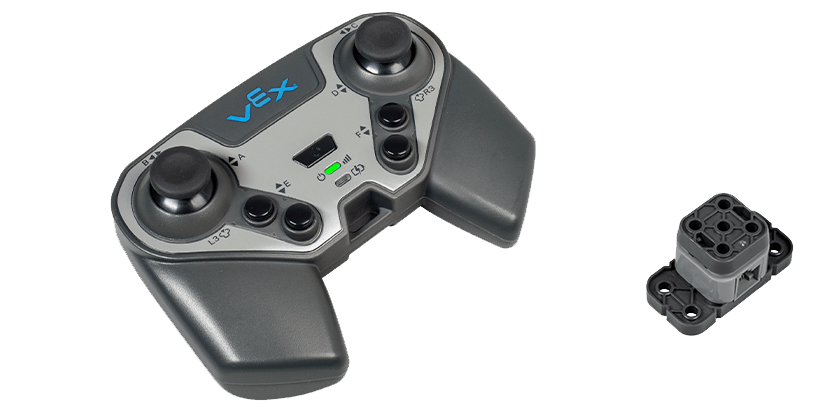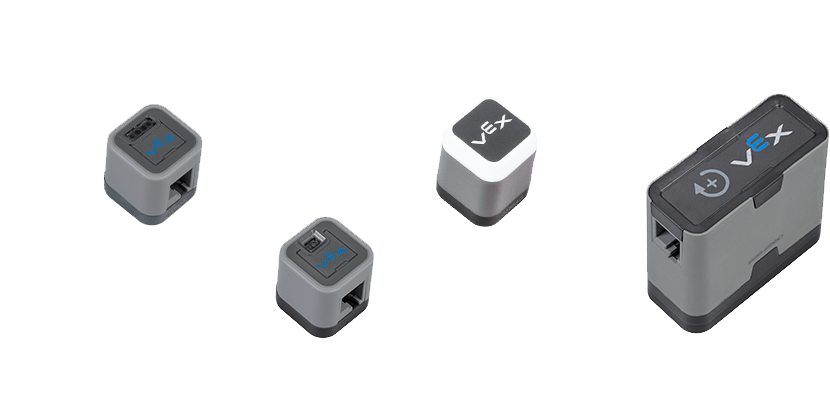 IQ Robot Construction System
VEX IQ is based on plastic, snap-together pieces specifically designed to build highly functional robots. This system doesn't require any prior knowledge in robotics. Students can easily build their first robot, and the wide variety of additional parts means that they can build anything they imagine as they continue to learn. Every kit includes a hand tool to make assembly and disassembly easy for small hands.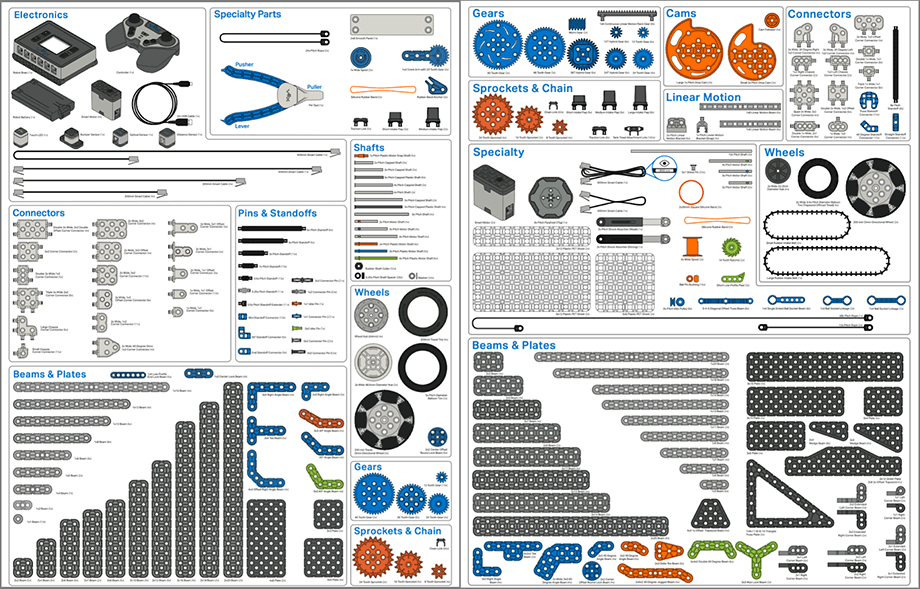 Coding for Everyone
VEXcode IQ brings Robotics and Computer Science to life for all students at all skill levels. Choose between three different coding languages - Block-based, Python, and C++. Configure and drive your robot with ease thanks to the graphical Device interface. Develop your programming skills quickly with integrated Examples, Help, and Tutorials. VEXcode IQ also helps keep your robot up-to-date, automatically. VEXcode IQ is available for Chromebooks, iPads, Android tablets, Windows PCs, and Macs.
Classroom STEM reimagined
VEX IQ Classroom Bundles
The driving concept behind 21st century classroom design is flexibility. VEX IQ Kits, storage, fields, and game objects work together to make the educator's job easier.
Classroom Bundles are the perfect solution for individual STEM classrooms. Bundles come in three sizes and include robot kits, extra parts, classroom charging, game field and game elements.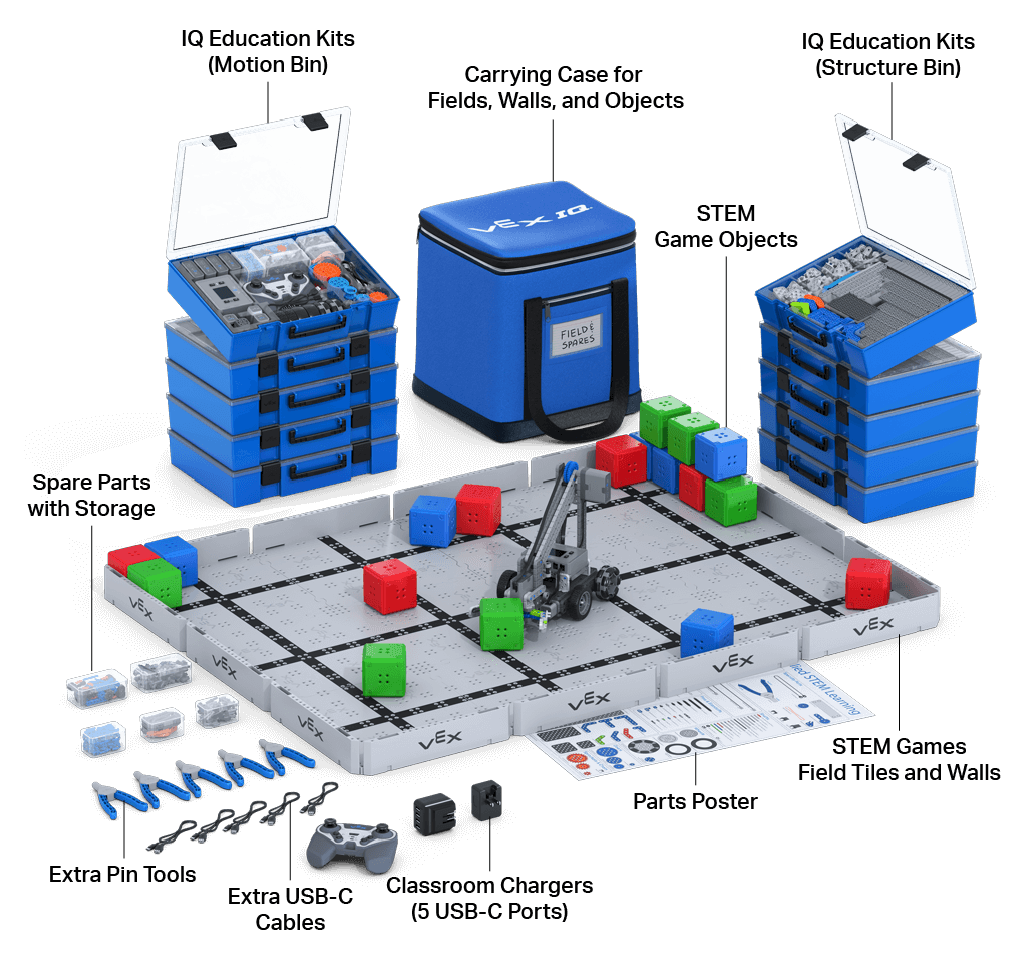 VEX IQ Competition managed by the REC Foundation
In the VEX IQ Competition teams of students are tasked with designing and building a robot to play with other teams in a game-based engineering competition. Classroom STEM concepts are put to the test as students learn lifelong skills in teamwork, leadership, communications, and more. VEX Robotics hosts the world's largest robotics competition for students all over the world to compete against one another using a robot of their own design. In the VEX IQ Competition, classroom STEM concepts are put to the test as students learn lifelong skills in teamwork, leadership, communications, and more. Tournaments to determine the best teams are held year-round at the regional, state, and national levels and culminate at the VEX Robotics World Championship each April.
Your Next Competition Robot Needs the Right Parts
The Competition Kit of Parts is formulated specifically for the needs of Competition Robots. This includes a complete set of Electronics, sensors, and six Smart Motors. The wide variety of mechanical parts provide infinitely possible way to solve the challenges of the VEX IQ Competition any way you want.